The Edition
Elizabeth began fundraising for the project in the autumn of 2011, with private subscribers immediately responding to the idea of A2B.
The generosity of these first subscribers enabled early research, development and production of a mock-up of the publication: a box containing several individual publications and pull-out items.
In 2013 the project was recognised with a significant award by Creative Scotland. The Edition is now in its final phase of fundraising and production, with its launch scheduled for June 2015.
You can order a copy of A2B now. If you are interested in supporting the project in other ways please get in touch.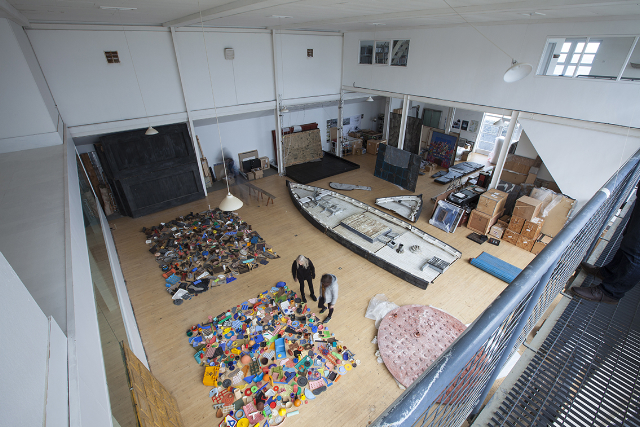 Touring exhibition
In addition to the publication, a touring exhibition is planned. A comprehensive exhibition will open in Dundee in the impressive new dockside, SHED 25, to coincide with a Maritime Festival (summer 2015). The exhibition will then tour, showing at: The National Galleries of Scotland principal space in Edinburgh, by invitation of the Society of Scottish Artists; the imposing Electriciteitsfabriek art centre, The Hague, Netherlands. A smaller touring show will be hosted in museum/other venues in Fife, where the artist lived and worked.
Robert Callender International Residency
Established to offer opportunities to young artists from Edinburgh College of Art and Japan - and based Robert Callender's Fife studio - the residency programme is now in its fourth year.
Robert Callender always acknowledged the value for young artists of studio visits during which they could get a sense of how committed artists lived their lives, and the surroundings in which they created work. Over the years countless individuals and groups of young artists have become frequent visitors to Sea Loft, including many young Japanese artists - a country and culture that was so special to Robert.
Find further information at the RCIR website.
Management
The A2B project is initiated and managed by Lateral Lab, a new Scotland-based contemporary art charity that supports new art and pioneers cutting-edge responses to the environment through an ecocentric spirit of exploration, risk-taking and international collaboration.
Lateral Lab (SC043880) is a registered Scottish charity limited by guarantee. Its directors are: Elizabeth Ogilvie, artist, lecturer, curator; Diana Sykes, director Fife Contemporary Art & Craft; Jane Warrilow, curator, editor; Lateral Lab is also working with Babs McCool, arts management and Deirdre Robertson, outgoing director, artist, writer, previously at Tate Galleries. The board looks forward to welcoming two incoming directors: Judith Winter, curator, formerly curator for MIMA, Middlesbrough Institute of Modern Art and Head of Arts for DCA, Dundee; Dr Rachel Joy Harkness, anthropologist, currently Postdoctoral Researcher at the University of Aberdeen.
Credits
Design: Tim Bremner, Bremner Design/ Astrid Johnston, astandred, in collaboration with Elizabeth Ogilvie.
Editorial: Jane Warrilow
Advisors: Gillian Raffles/Mercury Gallery/London, Charles Esche/Van AbbeMuseum/NL, Elizabeth Ogilvie/visual artist